When arguments don't work, the game might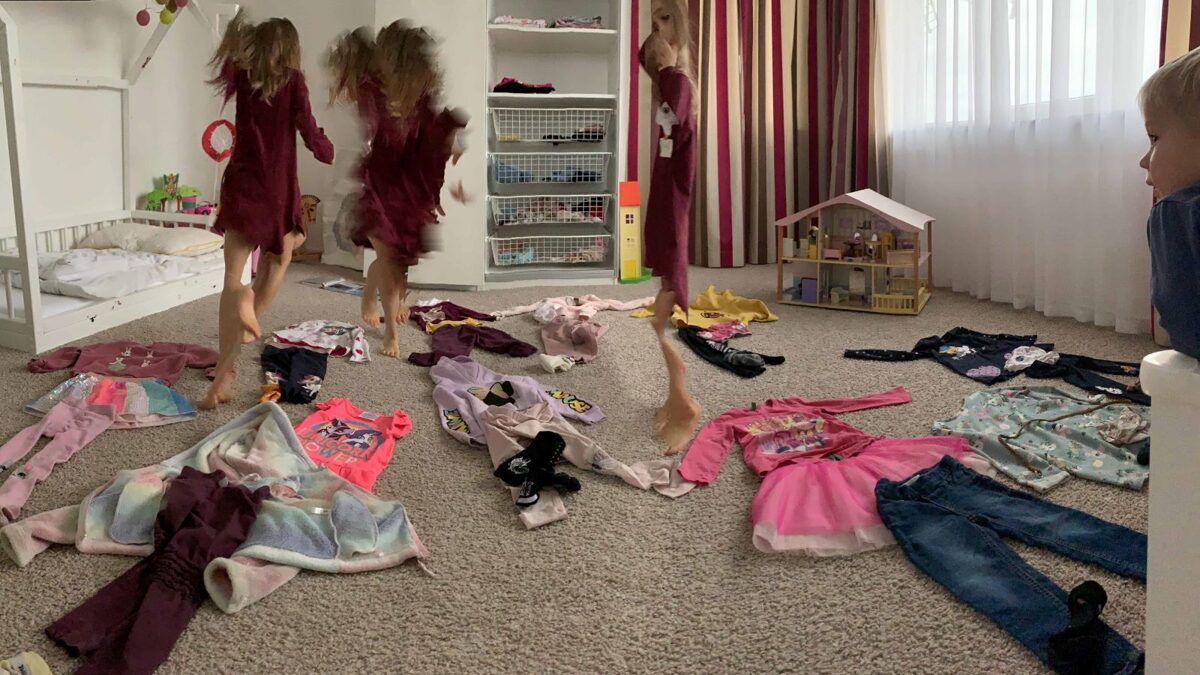 Reading time: 10min;
Method: Dot Voting;
Content: Usage example; Personal case
Complexity: Very easy;
Keywords :#game; #no arguing; #getting to the results;#playing games with children; #fun and energy
There are battles where it is worth getting involved in and win. But then there are also battles where it's much wiser not to get involved. It is when you gain more by staying in an observer role. While there are so many situations like this around us, in this article, I'll give an example of a mundane family case where the dot voting game gave my family and me more benefits than getting into disagreements. I think this article could be especially intriguing for mothers interested in practical methods to outplay children's stubbornness.

---
One step between mundane situation and power battle
Holiday mornings in our house are pretty energetic and active. Since we don't have any appointments nor schedules to stick to, everyone is free to do whatever they feel the most up to. When everyone has had breakfast, all toys are dragged out of the boxes, played with, and admitted not engaging enough again; I feel it is the right moment to go outside for a walk. I'm very determined to do it, especially because of the constantly increasing noise level that risks entering my alert zone. I know for sure that these are the best occasion to change settings and get a breeze of fresh air. Both for the children and the parents. Yet my children have a different opinion, and I hear traditional "Nooooooo, I dooooon't wannnnnnttttt." This reaction does not surprise me, and I don't change my determination to get everyone out of the house. That's why I start convincing children using logic-based arguments like "It's very healthy to go outside every day" or "It's such great weather outside today, we have to use the opportunity to enjoy it". When this doesn't work (obviously!) I continue with more compelling arguments for children like "We could go to the playground…". Of course, this works better, and I kind of have sold my proposal to them since I hear "Wellll, Okkkk". Kind of sold.
I get the next wave of resistance at the very first step of the preparation step when I invite everyone to change their pajamas to something more appropriate.
My little deceiver obviously has decided to procrastinate as long as possible. She says she can't decide what to wear. I hear "Wellllll; I'm not sure" about every single closing option I propose. I clearly understand what is happening right now – if she can't convince me to stay home, she will try to delay going out as much as possible. She might be thinking that maybe it's a chance to skip it at all.
Also mommy has her tricks
The situation is not unique since we have been through it a couple of times before. Therefore I have already some experience with different approaches for resistance like these:
Bribing is working brilliantly. But I try to use it as little as possible, and therefore will not use it for a small argument like this.
Giving some more extra time will not work for sure, that I know. It has never worked before, and I have no reason to believe it could play out differently this time.
Choose the closes instead of my child and simply inform her that she has to wear it? It could be a solution theoretically, but honestly never has worked before. Whenever there is one specific option pushed on her, she confidently says that THIS is what she definitely will not wear.
I could also use force and dress her myself. A pretty drastic approach that also is not on the list of my favorite approaches. Especially because it's very likely that the kid will start to pull the closes off in anger, and here we are where we began. The only achievement so far - ruined mood for everyone.
It would also be the case if I would start yelling and raising my voice. So no go for me.
After all, I could also let the situation go its course and give up on the plans to go outside.
But then again, I could not. Giving up is not my style.
So I have to come up with something more creative and extraordinary than usual.
What do kids like the most? Games and surprises! So I have to think of ways to turn dressing up into a game with some surprise elements. If I succeed, I expect the kids to shift the roles from the opponent to active participant.
And I don't need much time to figure out a suitable game. I try to hook my kid with, "Listen, maybe let's play an interesting game if you can't decide on your own? Let's pretend we are your assistants, and we all would have a secret target to help you find the prettiest outfit. That would be a kind of competition. What do you think?"
BINGO! I got her! I see the sparkle of interest in her eyes, and she starts jumping around the room. Finally, I hear also, "Yes! Yes! Yes! And I would also participate, right?!" Well, of course!
How did we play it
I based the game on the basic principle of the dot voting method – everyone votes for their best options out of available. What the best means for everyone, that's not important and there are no rules regards it. So what we did was:
We picked a couple of clothing options and put them all on the floor. For sure, here you need more than two options to make it enjoyable. On the other side, too many choices would not fit the purpose as well; it would make the game too complicated. So we picked 7.
We found more people than two of us to participate in the game. Every family member could participate, as more people as more fun is there. We were 4.
We needed to give voting tools to every participant. Voting tools can be anything. It can be "post it's", it can be pasta or toys, it can be books or Lego cubicles. It can be anything available at home.
The next question is, how many voting tools everyone gets? That's very dependant on the game's obstacles – how many options are there and how many choices are there. The number of available votes should be at least by one more than there are choices available. To make sure that at least one choice has more than one vote. Kids will undoubtedly appreciate getting more than one voting option just because it's pure fun for them.
When all is set up, every participant of the games votes for their favorite options. The only rule here is that participants couldn't give all their votes for a single option.
When everyone has voted, we summarize the results and detect which option has gathered the most votes. That option is the winner and the one selected for wearing that day.
After kids have got the energy and fun from playing the game, there is no further resistance. Who wouldn't like to wear the prettiest set of closes????
Playing the game takes some 10 to 15 minutes, which I consider not a massive investment of time—especially considering the infinity it could have taken if we would continue as we started. Moreover, the positive mood, playfulness, and ability to participate in the creative process are vast added value.
P.S. I have to add, however, that there is one downside of this game. The other options, which didn't get the majority score, are still on the floor, and the kids are not very enthusiastic about picking them up. Yet that's minor and manageable and not stopping me from playing this game again😊
Conclusions
We often face situations that can become arguing-game because everyone involved has different expectations regarding the outcomes. That's certainly present in the professional field but also at home and with our families. And while we can't avoid such situations, we can choose our behavior in these situations. When it's essential to get drugged in an argument, and when it's not, that is everyone's individual decision.
However, with this very mundane example of dot voting method usage, I wanted to show how universal this method is. It can be used in many situations when we don't want to get involved in the battle, from business and professional matters to getting our children dressed up on Saturdays. Avoiding conflicts doesn't mean not getting to the results. Everyone wants to be heard and feel that their opinion does matter and is taken into account. Especially when we want to keep people engaged.
Therefore I invite everyone to think creatively, look for constructive solutions, and use dot voting whenever there is a place, a time, and space.
Did you like this method and the description of it?
Do give me a note about it.
I will appreciate it if you include in your message what you did like, what you think should be improved, and of course, any other ideas that would be worth experimenting with.
Maybe you want to join me in some of the method experiments?
Do you have interest or experience in this method usage?
I would love to hear your example. Let me know.
No comments
Leave a reply